Navigator 365 is an excellent alternative to out of the box SharePoint search UI. Please follow the steps bellow to configure your custom SharePoint search results page. Once set, the custom search results page is displayed when you search using the Microsoft Search box that appears in the navigation bar on top of the page and is used when you enter search from site pages or the home page of the site. It is not used when you are searching within a list, library, or the site contents page.
Create a new page (using modern experience). Select blank template.

We recommend to call this page Search, but you may use anything you want. Publish this page.

Browse to Site Settings and open up Search Settings in Site Collection Administration

Type in full URL of the page you have created to the Results Page URL and select Send queries to a custom results page URL. Click Ok to save.

We recommend applying special search result layout, which (at the time of creation of this article) is done through the special PowerShell command only. You can review a following Microsoft article for the details - https://docs.microsoft.com/en-us/powershell/module/sharepoint-pnp/set-pnppage?view=sharepoint-ps

IMPORTANT!: It may take up to a 30 minutes for the system to apply changes to custom search results page. You would not be able to open your new Search page until the update is propagated. Please wait.
Browse to your new Search page and click Edit. Add Navigator 365 web part.

Go through the configuration wizard. It is very important to select the right scope - either Current Site, All SharePoint, Specific sites or teams. All search results will be limited based on your selection.

After going through the wizard, you search page is ready to be used. Just enter your search string into search text box on the site, and it will redirect you on this page. This works
Useful Configuration Options
You may consider the following useful configuration options for this scenario:
Hide Search Wizard. By default Navigator 365 will show available refiners/filters before proceeding to search results. User has to click Show Items button display the results. User may apply additional filters later through the Filters menu. This feature is configured in Settings > Toolbar & Search > Show Search Wizard for result sets exceeding item limit.

Change Layout. By default Navigator 365 displays results in a grouped tiles layout. You may change it to more standard List layout style, or allow users to control it themselves. This feature is configured in Settings > Layout > Display mode.

Add additional filters/refiners. There are 9 standard filters available by default:

File Type
Author
Modified date
Created date
All Tags - special refiner showing all available managed metadata (taxonomy) tags, grouped by the field.
Retention Label
Sensitivity Label
Sensitive Information Type
Folders - special filter allowing to filter by specific folders in your search. This filter is not available for All SharePoint and All Teams data sources.
You may add as many additional filters as you like. This feature is configured in Settings > Layout > Display mode.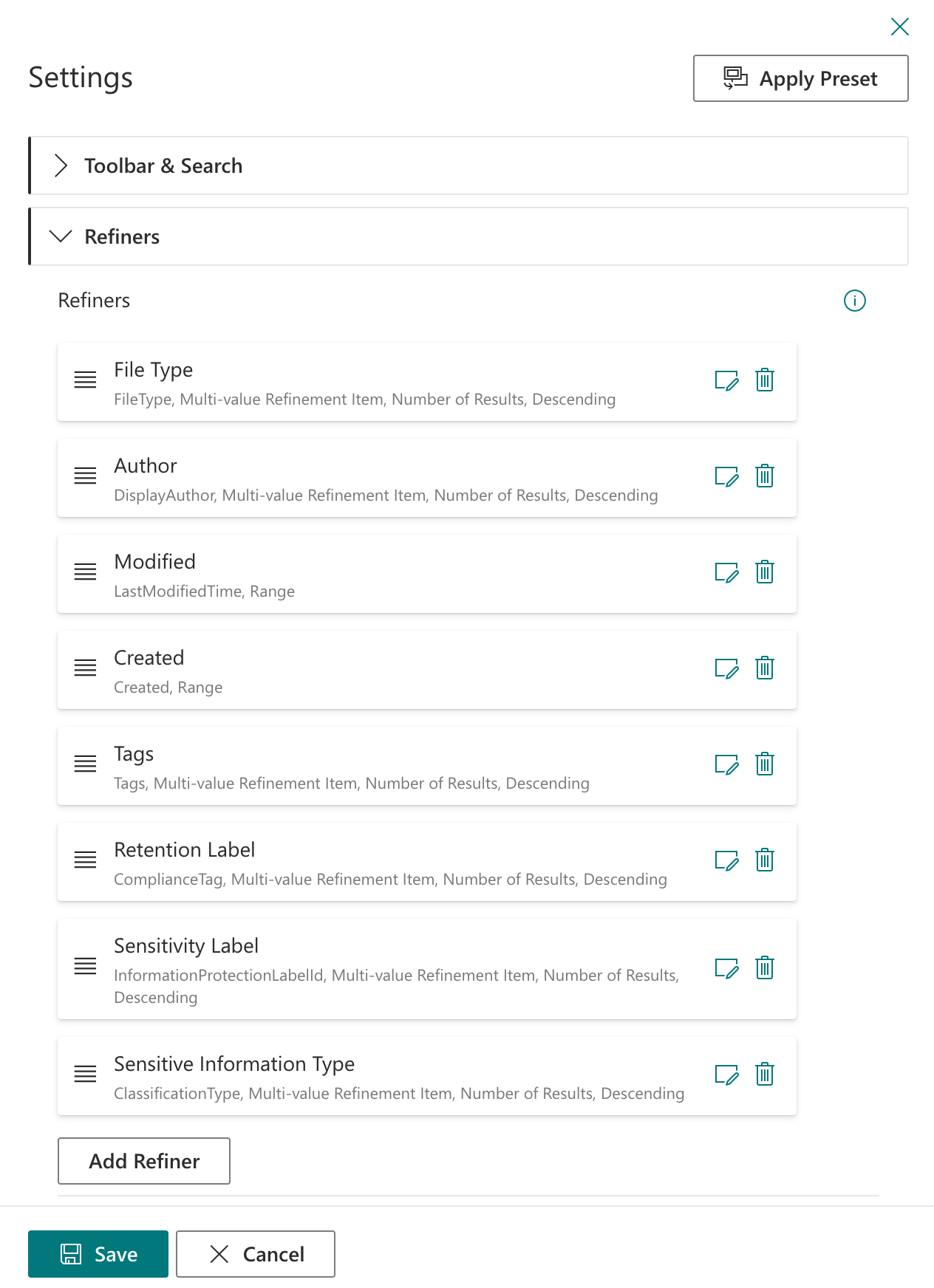 Additional Resources
Feel free to read more about custom search pages in the following article:
https://docs.microsoft.com/en-us/microsoftsearch/create-search-results-pages